January 2023 Update: Please visit HERE for updated information on our 2nd door hanger campaign. Thank you!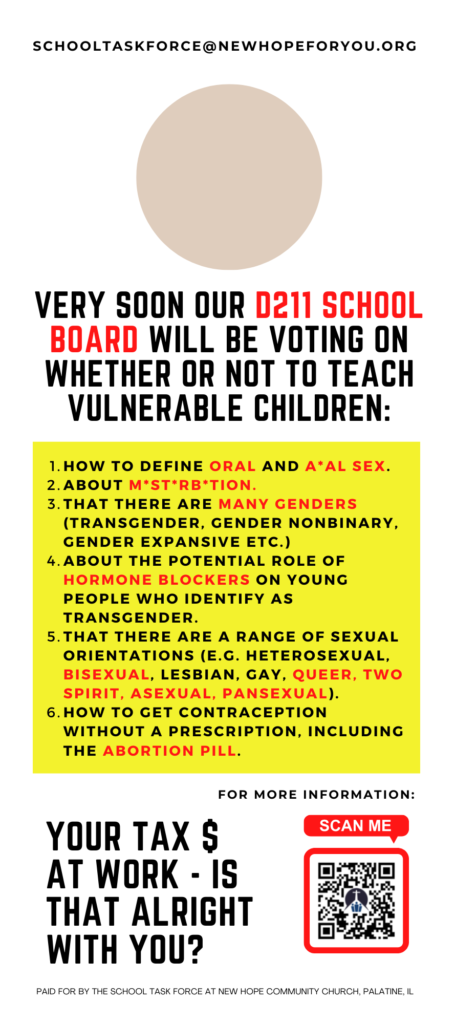 UPDATE – Huge Turnout!
There was a HUGE response, both in person and via email. Despite this, 5 members of the D211 Board still voted to adopt the atrocious new 2nd Edition of the National Sex Education Standards (NSES) for freshmen and sophomores. They ignored a PACKED room, 2+hours of public comment and hundreds of emails from the community asking them to NOT adopt.
Dombrowski and Cramer were the only ones to listen to the valid concerns of parents and voted NO.
The five – Klimkowicz, Cavill, Rosenblum, McGowan, Bradley – were very dismissive and condescending during their remarks. The battle for the health and well-being of D211 students is not over. Stay tuned.
In the short term, a NEW CALL TO ACTION:
The new curriculum takes effect spring semester 2023. If you have a freshman, sophomore, or incoming freshman, email your school principal and OPT your own child out. Here are the emails for each school:
Conant – Julie Nowak – jnowak@d211.org
Fremd – Mark Langer – mlanger@d211.org
Hoffman Estates – Michael Alther – malther@d211.org
Palatine – Tony Medina – tmedina@d211.org
Schaumburg – Brian Harlan – bharlan@d211.org
Copy the Board of Ed and Supt. Small on your email:
lsmall@d211.org, aklimkowicz@d211.org, kcavill@d211.org, mcramer@d211.org, pdombrowski@d211.org, cbradley@d211.org, tmcgowan@d211.org, srosenblum@d211.org
Out of 860 school districts in Illinois, 548 have opted out, including District 15 and District 54 – the K-8 feeder districts for D211. Keep that in mind when you see standards listed for those grades.
Only 24 school districts have opted in so far over the last 14 months. What does that tell you?
Also, ask them to post the new curriculum online so everyone can see what exactly what will be taught.
Many of these new sex standards are so egregious, it's difficult to imagine ANYONE thinking this is acceptable for minors – let alone people tasked with making decisions that impact the mental and physical health of young people.
Aligning with the NSES standards is only one part of the problem. See details below for more information about the ongoing sexualization of our kids in other ways by D211.
Here are some of the standards in the NSES. The full document is linked below.
– HOW TO DEFINE ORAL AND ANAL SEX – NSES # SH.8.CC.1*
Believe it or not, the NSES introduces this standard to kids starting in 6th grade!
– IDENTIFY RISKS IN A VARIETY OF SEXUAL BEHAVIORS, INCLUDING VAGINAL, ORAL, AND ANAL SEX – NSES # SH.10.CC.2*
The NSES introduces this standard to kids starting in 9th grade.
– DEMONSTRATE STEPS TO USING BARRIER METHODS (e.g. EXTERNAL AND INTERNAL CONDOMS, DENTAL DAMS) – NSES # SH.10.SM.1*
The NSES introduces this standard to kids starting in 9th grade.
What kind of a school includes discussions of oral and anal sex as a part of the curriculum?
These are the glossary definitions verbatim from the NSES:
Anal Sex: Sexual behavior involving penetration of the anus by a penis or SEX TOY.
Oral Sex: Sexual behavior that involves a person using their mouth to sexually stimulate the genitals of another person.
Who in their right mind thinks this is necessary to include in a student's school day? Discussing these things in the classroom is both completely inappropriate and normalizes these high risk sexual activities. There is no such thing as safe anal sex. This is a truth that will not be taught. Anal sex bruises and tears delicate tissue not meant for such use. Potentially even worse, the subsequent injury provides an excellent conduit for the transmission of disease.
NOTE: Unfortunately, students are already exposed to graphic depictions of oral and anal sex in the books. Here are a couple of examples from D211 libraries: WARNING: THEY ARE EXTREMELY GRAPHIC.
Normalizing early sexual activity is very harmful and completely out of bounds of what's acceptable for our public schools. KIDS CANNOT CONSENT.
– DESCRIBE EFFECTIVE WAYS TO COMMUNICATE CONSENT, PERSONAL BOUNDARIES, AND DESIRES AS THEY RELATE TO INTIMACY, PLEASURE, AND SEXUAL BEHAVIOR – NSES # CHR.10.IC.1*
The NSES introduces this standard to kids starting in 9th grade.
There is a big push by Planned Parenthood and others for "pleasure-based" comprehensive sex ed. They believe children are sexual from birth, should enjoy fun sex lives, and it is wrong to tell children to put off or not have sexual relations as long as all parties consent.
Their philosophy is insane and unhealthy. For one thing – how do kids consent who are under the legal age of consent?? It's not possible for kids to consent to sex and there are numerous lifelong consequences to treating sex like just another fun activity.
Pleasure-based radical sex ed has no place in our schools.
– MASTURBATION – NSES # PD.5.CC.3*
Believe it or not, NSES begins discussion of masturbation starting in 3rd grade!
These are glossary definitions verbatim from the NSES:
Sexual Behavior: Acts that include, but are not limited to: vaginal sex, oral sex, anal sex, mutual masturbation, genital rubbing, or masturbation.
Masturbation: Touching one's own body for sexual pleasure. This may include stimulation of one's own genitals and commonly results in orgasm.
While masturbation may be a common part of child development, discussing it in class introduces it and normalizes it. Kids become more vulnerable to early sexual activity, using pornography, sexual addictions and/or sexual exploitation. Here's another excerpt from a Comprehensive Sex Ed (CSE) program:
Ex: "Masturbation is one of the best ways to learn about and understand how one's body responds to sexual stimulation. It can help women and girls learn how to reach orgasm." (It's All One Curriculum, Vol. 2, p. 68)
Mutual masturbation is often promoted by CSE as a form of abstinence. In any case, this is NOT an appropriate topic for school curriculum.
– THERE ARE MANY GENDERS (TRANSGENDER, GENDER NONBINARY, GENDER EXPANSIVE ETC.) – NSES # GI.5.CC.3*
Unbelievably, the NSES introduces this standard to kids starting in 3rd grade!
This hardly needs an explanation. If we wanted to mentally destabilize kids, could we do a better job than to suggest to them that they may not actually be male or female? This claim promotes and normalizes the exploration and affirmation of fictional gender identities. It suggests that children can actually change their gender, identify as multiple genders or no gender at all.
This is neither scientifically nor medically accurate, but rather an insidiously destructive ideology. Most gender-confused children resolve their confusion by adulthood if not affirmed in a false identity. Extreme gender confusion is a mental health disorder (gender dysphoria) that can be helped with mental health intervention.
NOTE: Unfortunately, District 211 made the decision to align themselves with transgender ideology in 2015 when the school board voted to allow students to use opposite sex locker rooms. This is especially egregious during swimming units when students must fully undress to change into their swimming suits.
District 211 also follows the ISBE Non-Regulatory Guidance Supporting Transgender, Nonbinary and Gender Nonconforming Students. This is truly an appalling set of recommendations created for IL schools by LGBT activists. Following these guidelines is a wholesale implementation of gender ideology in the schools.. Read it for yourself HERE.
Not surprisingly, there are many books promoting transgender ideology in D211 school libraries.
In summary, our schools are confusing kids about their gender, encouraging that confusion and then deliberately cutting parents out of the picture. (See guideline E-2 of the ISBE Guidance above.)
– THE POTENTIAL ROLE OF HORMONE BLOCKERS ON YOUNG PEOPLE WHO IDENTIFY AS TRANSGENDER – NSES # PD.5.CC.4*
Unbelievably, the NSES introduces this standard to kids starting in 3rd grade!
One thing is certain…The NSES will NOT teach students that the use of hormone blockers is an EXPERIMENT on otherwise healthy prepubescent kids. We know very little about the risks of physical and psychological consequences of puberty suppression. It remains unknown if regular sex-typical puberty will resume following suppression. "Puberty suppression hormones prevent the development of secondary sex characteristics, arrest bone growth, decrease bone accretion, prevent full organization and maturation of the brain, and inhibit fertility," Hruz, Mayer, and McHugh write in a Supreme Court brief filed in the Gavin Grimm case.
We do know the vast majority of children who start puberty blockers also begin using cross-sex hormones, which causes sterilization. Many also have surgeries to remove healthy body parts. There are countless stories of kids who have begun to transition and now deeply regret it and are suicidal. Click HERE for one of many stories of regret – the story of Chloe Cole.
KIDS CANNOT CONSENT to gender transition. Their brains are FAR from fully developed. The book Irreversible Damage by Abigail Shrier is a must read for every parent. Kids need love and compassion, not mutilating surgeries and sterilizing hormones.
– THERE ARE A RANGE OF SEXUAL ORIENTATIONS (E.G. HETEROSEXUAL, BISEXUAL, LESBIAN, GAY, QUEER, TWO SPIRIT, ASEXUAL, PANSEXUAL) – NSES # SO.8.CC.2*
Unbelievably, the NSES introduces this standard to kids starting in 6th grade!
Queer? Two Spirit? Asexual? Pansexual? Do you ever get the feeling that our schools are deliberately encouraging anything except male and female and heterosexuality? They have NO business even talking about to other people's children about these things. Their brains are still developing. Leave vulnerable kids alone. Give them love and compassion, not confusion.
– IDENTIFY LOCAL ABORTION PROVIDERS – NSES # SH.10.AI.2*
The NSES introduces this standard to kids starting in 9th grade.
– OBTAINING 'CONTRACEPTION' WITHOUT A PRESCRIPTION, INCLUDING WITHDRAWAL AND THE 'MORNING AFTER' PILL – NSES # SH.8.CC.3*
Unbelievably, the NSES introduces this standard to kids starting in 6th grade!
The idea here is to cut parents further and further out of the picture. Comprehensive Sex Ed programs often encourage students to identify a "trusted adult" to confide in, so that parents can be intentionally left out of important, possibly life-changing, conversations with their child. Again, who thinks this is the business of school administrators to inflict a one-sided view of a very important topic to other people's children?
*https://www.advocatesforyouth.org/wp-content/uploads/2020/05/NSES-2020-web.pdf
___________________________________
THE SEXUALIZATION OF KIDS IN DISTRICT 211 MUST BE STOPPED.
Parents send their kids to school to learn math, science, history, etc. – not perverse sex ed.
STILL NOT SURE WHY THIS IS HARMFUL AND UNNECESSARY? MORE INFO HERE:
Comprehensive Sex Ed: The Harmful Effects on Children: https://www.comprehensivesexualityeducation.org/wp-content/uploads/Harmful-Effects-10.17.17.pdf
and here:
https://www.comprehensivesexualityeducation.org/wp-content/uploads/15-CSE-Harmful-Elements_RRR_final.pdf
and here:
Doctors: Puberty Blockers are a Dangerous Experiment: https://wng.org/roundups/doctors-puberty-blockers-are-a-dangerous-experiment-1617229035
WHAT IS SB818 and HOW DID WE GET HERE?
lllinois Senate Bill 818 took effect in August 2021 after passing the IL General Assembly and with Gov. Pritzker's signature, becoming Public Act 102-0522 and making Illinois the first state to adopt the perverse 2nd edition of the National Sex Ed Standards (NSES). The law requires schools that opt in shall provide course materials and instruction which are "complete." It defines "complete" in the following way:
" "Complete" means information that aligns with the National
Sex Education Standards.."
So, teaching comprehensive sex ed (CSE) now equals teaching the NSES in Illinois. This should never be the default curriculum for ANY child. It's very one-sided and normalizes early sexual behavior which harms children. The people behind the standards believe children are sexual from birth.
These standards are not national, were not written by government officials, and are not federal law. Created by three radical political organizations – Advocates for Youth, SIECUS*, and Answer – these organizations are exerting their power to push this garbage on kids across the country.
*Hugh Hefner provided seed money to Dr. Mary Calderone, former medical director of Planned Parenthood, to found SIECUS. They work to push Comprehensive Sex Education into schools.
As part of the deal to get it passed in the General Assembly, an OPT OUT for districts was included. Also, even if districts adopt the NSES, parents can individually OPT OUT their children. See below.
IMPORTANT LINKS:
National Sex Education Standards 2nd Edition – Read them for yourself: https://siecus.org/wp-content/uploads/2020/03/NSES-2020-2.pdf
Opt Out Form – Parents can opt their children out even if their district opts in. Other parents have opted out – JOIN THEM! https://www.awakeil.com/optout
"Unholy Alliance" article by Christopher Rufo about the partnership between Lurie Children's Hospital and school districts to promote BDSM, sex toys, and more to kids (no joke): htttps://www.city-journal.org/chicago-childrens-hospital-partners-with-local-school-districts-to-promote-radical-gender-theory
The Sterilization of Trans Kids: https://4thwavenow.com/2018/01/26/the-sterilization-of-trans-kids-pesky-side-effect-or-modern-day-eugenics/
Irreversible Damage: The Transgender Craze Seducing Our Daughters by Abigal Shrier: https://www.abigailshrier.com/
__________________________________
WHO ARE WE?
We are a ministry of New Hope Community Church in Palatine organized to raise awareness and DO SOMETHING about the sexualization of children in our schools. JOIN US! You may reach us at: schooltaskforce@newhopeforyou.org.
The hyper-sexualization of children MUST END. Freshmen and sophomores are below the age of consent and most parents do not want schools presenting one side of radical ideas and desensitizing their children to these topics. Many parents care very deeply how their children approach the topic of sex and have a much different value system than the schools.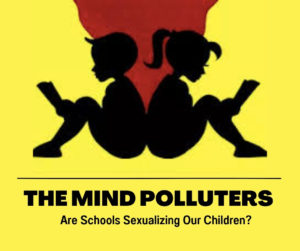 For More Information on New Hope Community Church:
---